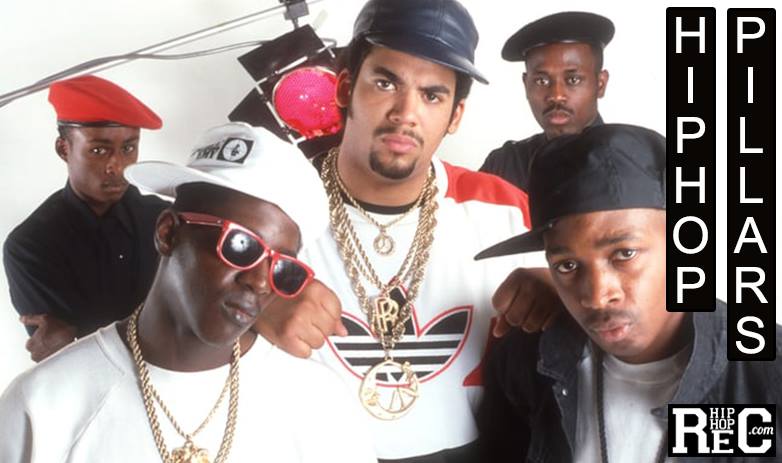 "I do my best to cut it off I don't claim to be a preacher, not paid to be a teacher but I'm grown" (Rebirth)
1991 significa "Apocalypse 91...The Enemy Strikes Black". Un altro album dai contenuti tangibili e già riscontrati nei primi tre: "Land of the free, but the skin I'm in identifies me" (Nighttrain). Le tracce più significative sono le seguenti:
"Pointin' to the joint, put the Buddha down" (Can't Truss It). Parla della schiavitù e della droga, infatti Buddha in gergo means erba.
"By the time I get to Arizona" racconta il loro viaggio verso quello Stato dove quattro anni prima Evan Mecham aveva cancellato la festa del MLK day. IL video ufficiale mostra il gruppo assassinare il governatore piantando una bomba azionata da un comando a distanza sotto la sua limousine.
"1 Million Bottlebags". Le bottlebags sono il rivestimento di carta messo intorno alle bottiglie di alcol perchè è illegale girare senza di esse in USA. La canzone denuncia l'abuso di questo da parte degli afroamericani. "I testified, my mama cried, Black people died when the other man lied" (Shut 'Em Down) riferendosi al fatto che davanti ad un giudice la parola di un bianco vale sempre più di quella di un nero. Troviamo anche una nuova versione di "Bring The Noise" suonata con il gruppo metal Anthrax.
Il 1992 e il 1993 lo passano in giro per il mondo tra concerti (anche con gli U2) e tentativi di disintossicazione di Flav.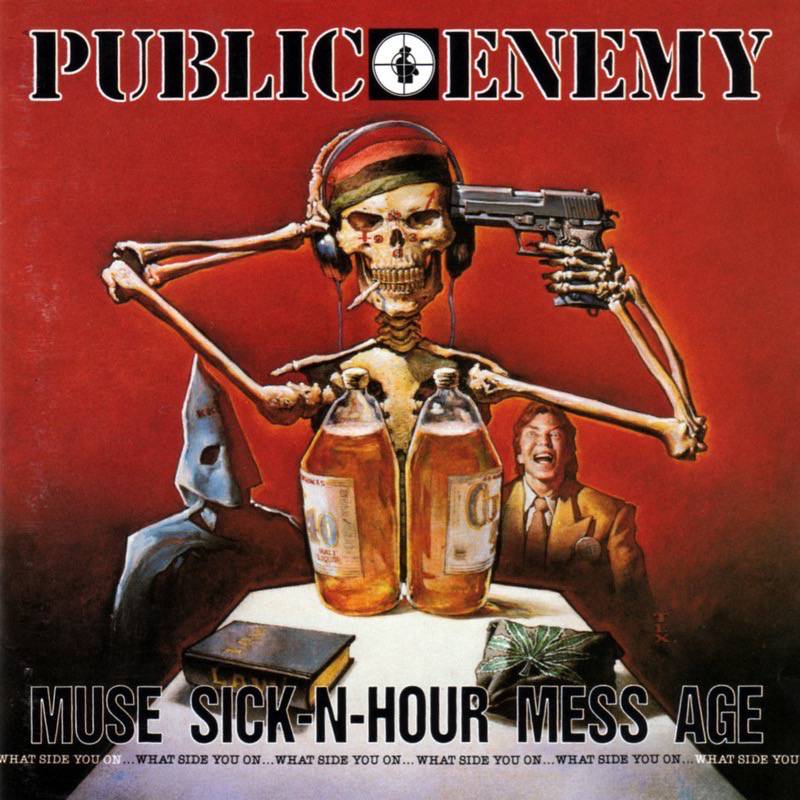 "Mr., Mr., why you always tryin to take all our money

Because I am the government. And you have to pay!

Stop tryin to take our money…"
(intro "What Kind of Power We Got?")
New album out! Dopo altri 365 giorni ci troviamo di fronte a "Muse Sick-n-Hour Mess Age!". Lavoro a dir poco esplosivo come si vede bene dalla copertina, mantiene l'esoscheletro dei precedenti, facendo ampi riferimenti e campionando voce e suoni dell'indimenticato James Brown. Scopriamo però anche aspetti diversi della loro personalità "Everybody talkin' that gangsta shit" (So Whatcha Gone Do Now?) contro lo stile di quegli anni di fare canzoni gangasta (faida Tupac – Notorious BIG in arrivo), filone col quale loro non hanno mai avuto niente a che fare e che continueranno a criticare. Continua anche la disapprovazione per il ghetto, la droga e il libero uso delle armi:
"The only good nigga is a dead nigga, thats what they used to say, can't understand why a man gotta use a trigga on his own, suppose to act grown"
(So Whatcha Gone Do Now?)
Mentre sicuramente d'impatto è la traccia "Hitler Day", di cui sotto un estratto:
"500 years ago one man claimed to have discovered a new world. Five centuries later, we the people are forced to celebrate a Black Holocaust. How can you call a takeover a discovery?"
Come spiega benissimo un commento su GeniusLyrics.com: "This refers to the fact that the Americas were inhabited already before Columbus made his famous expedition there. Here Public Enemy asks the question "How can you call the invasion and subsequent conquest of a place that already has people living there a discovery?"", paragonando la giornata in onore di Colombo ad una ipotetica analoga in onore di Hitler.
I seguenti sono anni travagliati, nel 1994 un incidente distrugge la gamba sinistra di Dj Terminator X, il quale si trasferisce nella sua fattoria di 15 acri a Vance County nel North Carolina. Si allontanerà dal gruppo ufficialmente nel '98 per concentrarsi a tempo pieno sull'allevamento di struzzi neri africani della sua fattoria (COSA?). Verrà sostituito da Dj Lord. Nel 1996 Chuck D sfrutta invece la sua vena artistica per dare alla luce il proprio album "The Autobiography of Mistachuck".
Ma nel 1998 un'altra perla è in arrivo e anche qui la filmografia aiuta parecchio: He got game!
"Where Christ is in all this crisis?"
Qui la religione ed il basket si mischiano in una serie di canzoni di cui ancora oggi si parla. Ed il tutto condito con l'omonimo film diretto da chi, se non da Spike Lee? E con, nei panni di Jesus Shuttlesworth, un giocatore di seconda categoria semisconosciuto... un certo Ray Allen. Restando intorno al tema del cristianesimo ricordiamo anche la traccia "What you need is Jesus" e invece, continuando a parlare della title track mi sembra d'obbligo estrapolare quello che è il loro mantra (e che dovrebbe essere rispiegato a molti artisti dei nostri giorni):
"It might feel good, it might sound a little somethin', but damn the game if it don't mean nuttin' "
Un po' di spazio logicamente viene anche speso per ricordare con una certa malinconia qualcosa che ha segnato uno e due anni prima il mondo dell'Hip Hop:
"A September ender to March Madness, remember? You never heard a murder, take it for example" (Is your God a Dog)
"Super Agent" narra la storia di una ragazzo tirato via dalla strada grazie al basketball e racchiude un po' il senso dell'album intero, che finisce con le parole:
"Am I supposed to be a nigga?"